Posted on December 18, 2019 at 3:31 am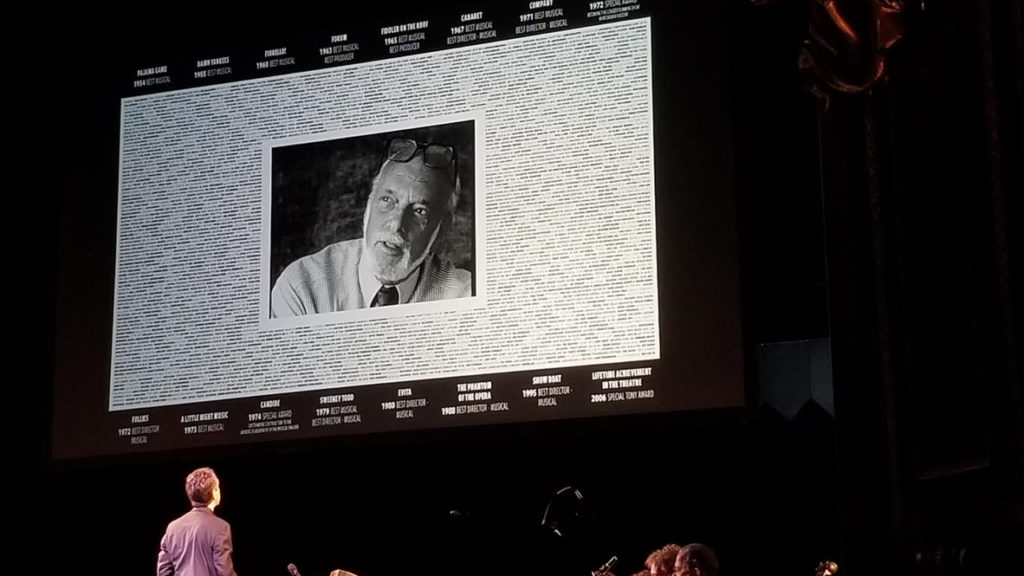 Yesterday, December 16, I was the musical director of a memorial for my mentor, the legendary director and producer Hal Prince, at the Majestic Theater on Broadway, where The Phantom of the Opera is still playing, as it has been for almost 32 years. Almost two thousand people showed up to pay tribute to Hal and his astonishing career on Broadway, which started when he was the assistant stage manager of a revue called Tickets, Please! in 1950 and continued to the last musical he directed, Prince of Broadway in 2017.

For the finale, a choir was put together featuring thirty-nine voices, a collection of actors and writers whose connections to Hal spanned more than four decades (George Lee Andrews was the original "Frid" in A Little Night Music in 1973; Chip Zien, Gregg Edelman and Jessica Tyler Wright were all in Hal's last production of Candide, at New York City Opera in 2017). I was asked to speak about my relationship with Hal, and as the choir assembled behind me, this is what I said: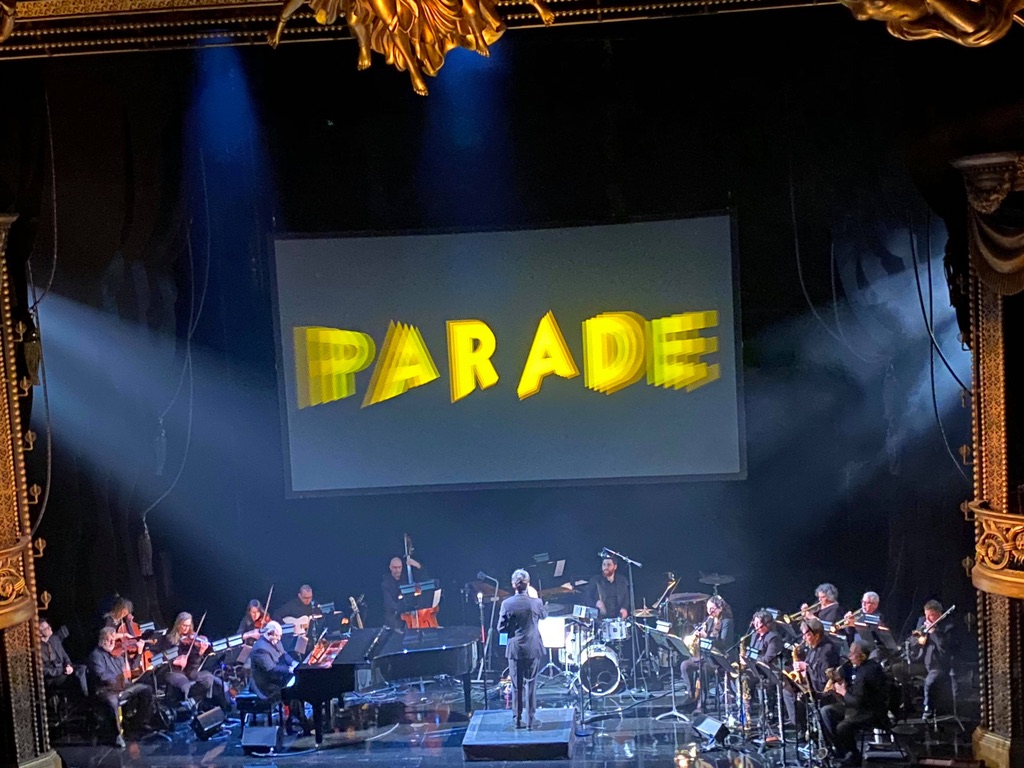 My name is Jason Robert Brown, and the only reason anyone in this room knows who I am is because Hal Prince scooped me up and said This is where you belong. He didn't wait for anyone to confirm that opinion, he just went ahead and said, You. Now.
For all the talk about his gift for mise-en-scene, Hal's job wasn't about directing sets – his job was about people. Without people, there's literally no way for Hal to do what he does. If you pay attention to cast lists and cast albums and show posters, and I do, you notice that there are so many actors whose names appear in show after show of Hal's, and of course designers and choreographers, writers and composers, stage managers, conductors; that wasn't a matter of convenience or comfort.  If you were in the room with Hal, you saw what I saw – some people just sparked him. They'd say something, move in some way, sing a particular note, push back on a suggestion he'd made, and in that moment, I'd see this transformative joy in him; his whole body language became charged – yes! Now we're goin'! And he would reach out to those people again and again because of what they sparked in him.
And those people weren't just part of the creative process; as far as Hal was concerned, they had to be part of the family. Those of us who were in that circle, who saw each other at the tree-trimming parties or the invited dress rehearsals or in France or Miami or, before my time, in Mallorca, God, aren't we all just pinching ourselves all the time that we get to be there, that somehow Hal Prince wants us to inspire him, to spark him, when he's done so much that inspires and sparks us?
I was 24 years old when Hal Prince asked me to write Parade. 24. I did not have a single credit on my résumé. But Daisy and Judy had told him to pay attention to my work, and so I played him some songs in his office, and he thought, Yes. That's it. You. Now. I can tell you that it's hard working with young writers, but Hal chose that path over and over again. Just this year, when he was 91 years old, Hal was working on a new show, called How To Dance In Ohio, being written by Rebekah Melocik and Jacob Yandura, who are 35 and 33. He heard their work and it sparked something in him. They're standing here on stage with me, right over there, surrounded by some small percentage of the writers and actors who were part of Hal's world, people who sparked him. And since he's not here to do it anymore, we're all going to stand here and say it for him – the theatre needs you. You have something to say. You belong here. You. Now.
And then the choir sang:
This is the program of the day's events:
Orchestra: Overture to Prince of Broadway (2017)
JOEL GREY: "Willkommen" from Cabaret (1966) [orch. Charlie Rosen]
Speaker: STEPHEN SONDHEIM
MICHAEL CERVERIS: "The Road You Didn't Take" from Follies (1971) [orch. Jonathan Tunick]
Speaker: ALFRED UHRY
TONY YAZBECK and CAROLEE CARMELLO: "This Is Not Over Yet" from Parade (1998) [orch. JRB]
Speaker: CAROL BURNETT
JANET DACAL: "Buenos Aires" from Evita (1979) [orch. JRB]
Speaker: ANDREW LLOYD WEBBER
MEGHAN PICERNO and JAY ARMSTRONG JOHNSON: "All I Ask of You" from Phantom of the Opera (1988) [orch. JRB]
Speaker: LAURA LINNEY
SIERRA BOGGESS: "Will He Like Me?" from She Loves Me (1963) [orch. Larry Blank]
Speaker: TOMMY KAIL
BRYONHA PARHAM: "Cabaret" from Cabaret (1966) [orch. Charlie Rosen]
JIM WALTON, LONNY PRICE and ANN MORRISON: "Old Friends" from Merrily We Roll Along (1981) [orch. Jonathan Tunick]
Speaker: JASON ROBERT BROWN
ENSEMBLE*: "Our Time" from Merrily We Roll Along (1981) [orch. JRB]
JOEL GREY: "Finale" from Cabaret (1966)
*ENSEMBLE MEMBERS: Sierra Boggess, Norm Lewis, Howard McGillin, Hugh Panaro, Ali Ewoldt, Brian Stokes Mitchell, Anthony Crivello, Loni Ackerman, Nancy Opel, Mary-Pat Green, Sal Mistretta, George Lee Andrews, Gregg Edelman, David Pittu, Jason Danieley, Harolyn Blackwell, Jessica Tyler Wright, Richard Kind, Chip Zien, Brooks Ashmanskas, Billy Porter, Jessica Molaskey, Andrea Burns, Bryonha Marie Parham, Kaley Voorhees, Janet Dacal, Karen Ziemba, Chuck Cooper, Brandon Uranowitz, Tony Yazbeck, Georgia Stitt, Rebekah Melocik, Jacob Yandura, Amanda Green, Tom Kitt, Michael John LaChiusa, Lonny Price, Jim Walton, Ann Morrison
Jason Robert Brown: musical director and conductor
Fred Lassen: conductor
James Sampliner: piano
Jamie Donald Eblen: drums and percussion
Randy Landau: bass
Michael Aarons: guitar and banjo
Marc Phaneuf, Kristy Norter, Jay Brandford: woodwinds
Sarah Boxmeyer: French horn
Tony Kadleck, Jami Dauber: trumpets
Clint Sharman: trombone
Todd Reynolds: violin (concertmaster)
Katherine Livolsi-Landau: violin
Claire Chan: violin and viola
Mairi Dorman-Phaneuf: cello
David Lai: music coordinator
Eddie Bean: music preparation supervisor
Directed by Susan Stroman
James Gray, Tara Young, Leah Hoffman: Assistants to Ms. Stroman
Produced by Ben Holtzman
Lighting by Ken Billington
Sound by Jon Weston
Stage design by Beowulf Boritt
Video segments directed by Lonny Price
Stage manager: Greg Livoti
Majestic Theatre production manager: Jake Bell
Of course, what this listing cannot show you is what happened after Mr. Grey finished the finale: the entire audience rose in a standing ovation for Hal, an ovation that continued for almost ten minutes.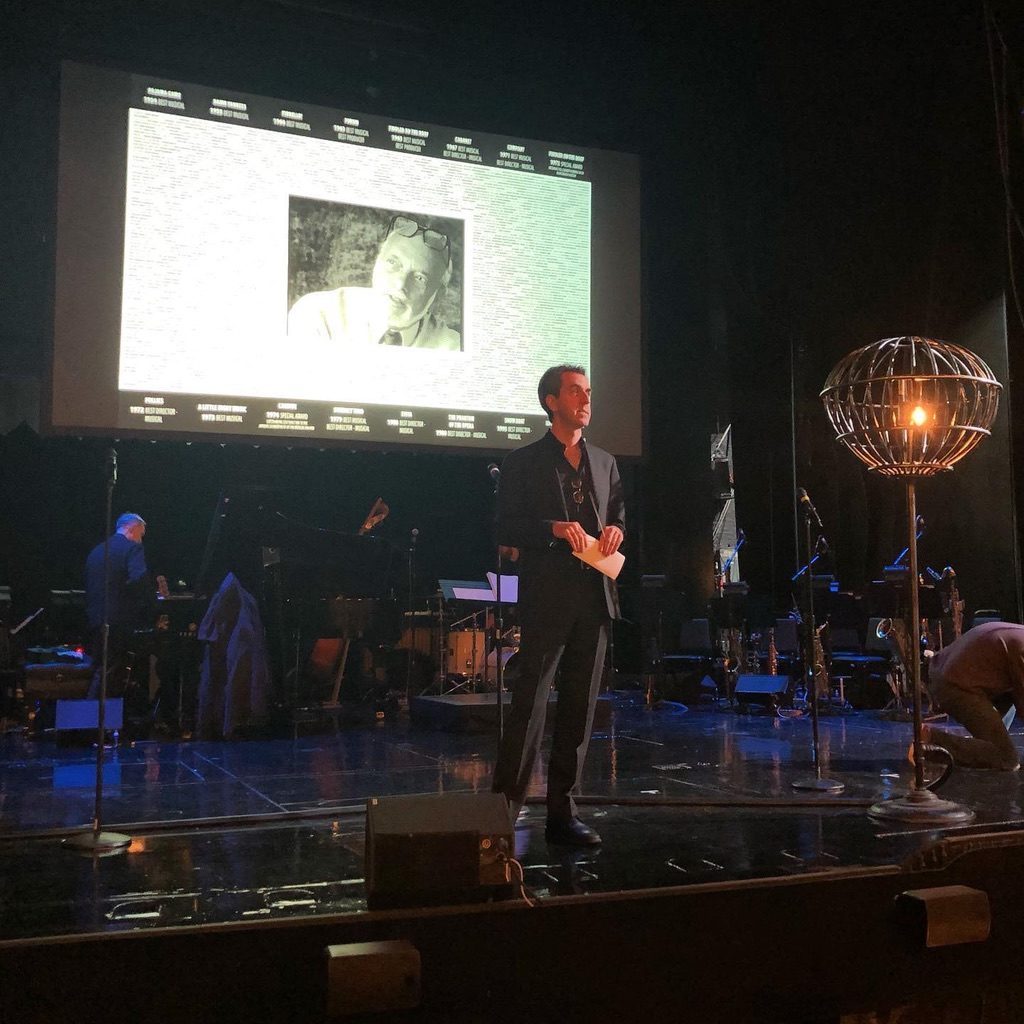 Jeremy Gerard wrote about the event for Broadway News, and here is an excerpt from that article:
"I live for the next musical. I live in the future. I'm totally mindful that nobody will ever have the life I've had in the theater. That's past. And that's damned sad."

Harold Prince once spoke those words and none were ever so true. Living for the next musical was Prince's mantra, familiar to any who encountered him, whether it be a seasoned artist, a young hopeful seeking guidance, or even a journalist; perhaps especially as journalist, for he had little use for discussing the past, as those of us who spoke with him over the years quickly learned.

Monday, however, was all about the past, as Broadway denizens of every stripe and license gathered at the Majestic Theatre – where Prince's production of "The Phantom of the Opera" has played since 1988 – to celebrate Prince's life after his run ended in July. Prince's career bridged two centuries and vast changes in the art, scope and reach of live theater, many of which one could legitimately lay at his feet.

The event, impeccably staged by Susan Stroman and musically directed by Jason Robert Brown — surely two of Prince's most accomplished students — adhered to the template of these memorials despite an almost unfathomable challenge: How do you summarize a career that encompasses such varied musical giants as "West Side Story," "Candide," "She Loves Me," "Company," "Evita," "The Phantom of the Opera" and "Show Boat"?

Brown attempted in several ways, proving his mettle as conductor, orchestrator and final speaker. The overture — played by a large orchestra, the likes of which haven't been seen on Broadway in, well, ever — sampled a dozen shows at least, with a dizzying array of tempos from samba to beguine to Merman-worthy rafter-raiser.

At age 24, Brown was tapped by Prince to write the score for "Parade," thus kicking off a flourishing career in the theater. And so it seemed apt that as he conducted the program, his shadow, cast by spotlights, danced directly beneath the capitalized letters spelling out "HAROLD PRINCE" on a wide blue screen above him.

There were comments from the two apposite giants linked by Prince: Stephen Sondheim and Andrew Lloyd Webber. Sondheim recalled Prince showing up for his own wedding with a script under his arm. Sondheim, his best man, relieved him of the crutch: "I gently slipped it out of his hand and said, 'Let me take care of this.'" The marriage, as everyone knows, was a keeper, running much longer than even "Phantom."

As for Lloyd Webber, he recalled receiving encouragement from Prince following the disaster that was "Jeeves," which led to their collaborations on "Evita" and "Phantom." But his most vivid memory was of Hal answering the question of a young journalist at a pre-Tony Awards event at the Plaza Hotel.

"Mr. Prince, what is your real hope for the future of musical theater?" the kid asked.

"I hope that the commercial theater on Broadway and in London is going to be able to continue to do new original work," Prince responded. Another mantra.

Carol Burnett tugged her ear and recalled how Prince had insisted on directing "Hollywood Arms," the adaptation of her memoir that she and her daughter, Carrie Hamilton, had co-written; her daughter died before the show. After the play opened at the Cort Theatre, Burnett said, "My baby and I went the distance, and it was all because of Hal."

Laura Linney recalled growing up with the Prince kids, Charlie and Daisy, and observing the director not as the Broadway superstar, but as a dad, never at a loss for family time. After a dramatic sibling breach while on vacation in Spain, Linney spied (her word) on father and daughter in tense conversation. She would never forget, she said, Prince "leaning in and putting his steadying hand on his daughter's arm, helping her move from one place to another."

And "Hamilton" director Thomas Kail recalled Prince reputedly telling a stage manager during one particularly tedious tech rehearsal, "It is days like this when I feel that I will live forever. And it is opening nights when I remember that I will eventually die."

"It makes you laugh and it made me cry," Kail said. "I thought that he perfectly articulated the way that such rigorous focus makes time disappear."

The ending, of course, was a heart-breaker.

In front of an onstage crowd of Princeophiles past, present and future, Brown pointed out two young artists Prince had been working with at the time of his death.

"And since he's not here do it anymore," Brown said, an audible catch in his throat, "we're all going to stand here and say it for him: 'The theater needs you. You have something to say. You belong here. You. Now.'"

Then those onstage sang "Our Time," pointing to both the future that Prince had envisioned and pathway that he had paved behind him.

And finally Joel Grey returned to the stage to leave the audience with the last lines of "Willkommen" as the theater went to black.
Another summary of the afternoon, by Ruthie Fierberg, can be found here.
I wrote about my experience working with Hal for American Theatre magazine this summer – you can read that here.
And I'll be talking about Parade with Alfred Uhry and several other members of the original cast and creative team on January 13 at the New York Public Library for the Performing Arts at Lincoln Center. Tickets (which are free of charge) can be reserved here.
And here, finally, is the letter I wrote upon learning of Hal's passing, July 31 of this year: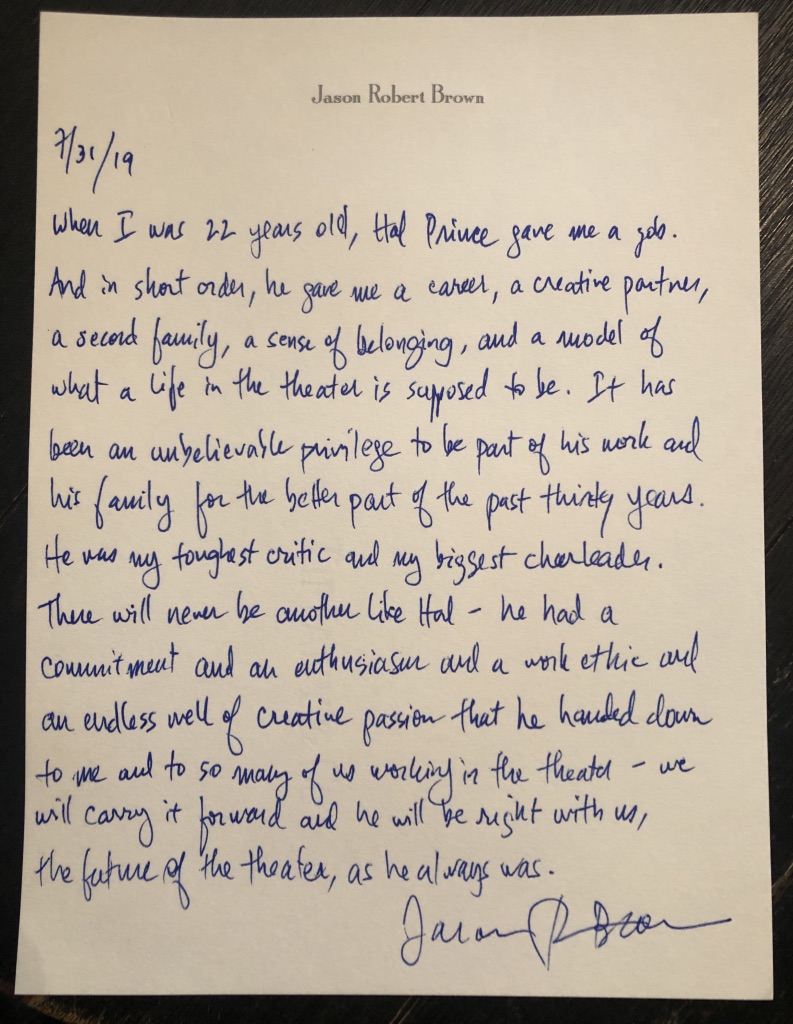 In spite of all that I've said and written about Hal in the last six months, and indeed over the last twenty years, I'll never be able to adequately articulate the profound and extraordinary gift he passed on to me. The best thing I can do is to keep doing the work he so fiercely believed I should do. And so I shall.