Posted on August 18, 2022 at 2:13 am
To my utter astonishment, as of right now, you can turn on Netflix and see the film adaptation of my musical 13! Directed by Tamra Davis, produced by Neil Meron, with a screenplay by Robert Horn based on the original script written with Dan Elish, choreography by Jamal Sims, and new (and old) songs by me, the movie features a wonderful cast of kids from all over the US and Canada as well as Big Famous Actors like Debra Messing, Rhea Perlman, Josh Peck and Peter Hermann.
Making this movie was a ridiculously complicated process that took years and years of development and drove several previously functional people to complete madness, but against all odds, it's here, and I'm thrilled that you can all finally see it. I thought I'd jot down some quick "notes from the author" that may (or may not!) enhance your viewing pleasure!
THINGS CHANGE.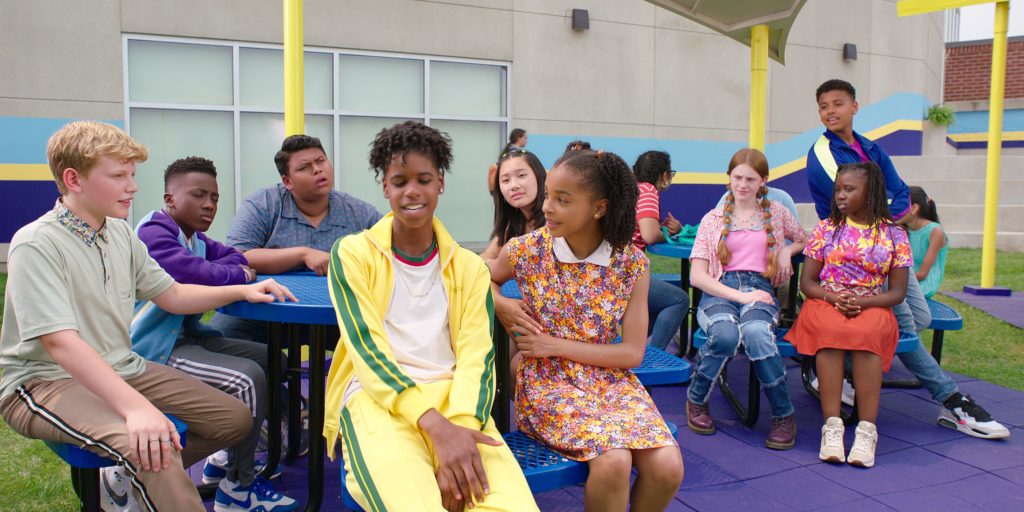 There have been five wildly different versions of the musical 13 since we started writing it in 2003 (the version we did on Broadway is actually #3, and we ripped it up the day the show closed at the Jacobs and basically started all over again), and the movie is yet another substantially altered variation. This isn't exactly a spoiler, but I feel I must disclose the most important change in the whole script. Try to contain your indignation, OG 13 stans. Here it is: In the show, Evan and his mom move to a town called Appleton, Indiana. There is actually no town in Indiana called Appleton, but there IS an Appleton, WI, and it was unnecessarily confusing, so – I know this is a disappointment, but – we changed the name of the town. Evan now moves to Walkerton, Indiana, which IS a real town that even has a real website … although it's not where we shot the movie. I don't know how the people of Walkerton will feel about their town being outed as The Lamest Place In The World, and I guess I should just admit that no one on the movie, not a single one of us, has ever set foot in Walkerton, Indiana. But Fate has chosen you, Walkerton! Rise to the challenge and stand proud!

(Netflix also wouldn't let us call it Dan Quayle Junior High School; they said no one would get the joke. At that moment, everyone over 50 cried.)
OH MY GOD YOU CUT THAT SONG.
Okay, so maybe the name of the town isn't the most important change in the movie. Deep breath, here we go. Here's the main thing: Any musical theater composer has to be able to pull off the Big Solo sung by a main character at center stage; it's sort of a core competency for theater songwriters, and honestly it's one of the things I think I do really well. (Virtually the entirety of The Last Five Years consists of that kind of song.) So it's hard for me to acknowledge that songs like that simply aren't as effective on film, they aren't what movies DO. Look, this is pretty obvious but even I don't want to admit it: Things on screen don't have the same effect as when they're live. When someone is singing live on stage, you actually feel it. The molecules in the air change, you're breathing the same oxygen as that person, it's happening right at that second, and it's electrifying, because singing is ultimately a very vulnerable act. Someone on that stage is exposing something and you get to be part of it. But when someone is singing on a screen, it just doesn't work that way. First of all, they're usually not singing live while the cameras are rolling, they're lip-synching to tracks that they've recorded in advance. You're also not seeing a single performance, you're watching several takes edited together. Movies are, above all else, a visual medium, and a person standing alone singing a song ultimately isn't very compelling visually, no matter how brilliant the performer or the director is. (I can think of exactly two exceptions to this rule.) So here's what I have to tell you about that song that was cut: we did record it and film it, the actor sang it so beautifully, it looked great, and then one day it got cut out of the movie. I wasn't part of the discussion. I guess I understand why it happened. I hope one day they'll release it. It's hard to explain this to people who don't really know how the business works, but in spite of my name being all over the movie, and in spite of the fact that none of this would exist if I hadn't created this story and these characters twenty years ago, there was a lot – a LOT – that was completely out of my hands.
OH MY GOD, YOU CUT ALL THOSE SONGS.
There are nineteen songs on the cast album of the most recent version of the show. Eight of them – fewer than half – are in the movie, and some of those have been substantially changed. Let's be realistic; movie musicals almost never have as many songs as the stage versions – the original production of Grease had eighteen songs in it, the movie only has about twelve, and four of those were written specifically for the film. So there's that, but also, the focus of this movie is different in a lot of ways than the show, and all the songs that veered away from that new focus bit the dust. Yes, I would have loved to hear Lucy sing about how everything Charlotte says is a lie, but that whole plot disappeared completely, so there was no way for her to sing about it. (Also, Netflix was never going to let us do "Terminal Illness.") But!
WAIT, WHAT ARE ALL THESE NEW SONGS?
OK, so, there are grown-ups in the movie, and one of them is Evan's mom, and the relationship between Evan and his mother is one of the main emotional drivers of the story. So there's a song for the two of them called "It Would Be Funny," which sort of replaces "Being A Geek."
Robert and I tried thirty different ways to get "All Hail The Brain" into the script, but ultimately it just wasn't as much fun as we wanted it to be, so I wrote a whole new number called "The Bloodmaster," which makes me so happy I can't even tell you.
We changed our conception of the characters of Brett and Kendra (all for the better), which meant that "Hey Kendra" wouldn't really work anymore. (Also, Netflix was totally not into the Barry White groove.) This gave me a great o-p-portunity to write a bop (or is it a banger? I never know) for all the Walkerton kids to sing on their first day of school, and as you can hear, I swapped out Barry White for Sylvester.
THERE WERE EVEN MORE NEW SONGS.
If you listen to the soundtrack, you can hear the "extended version" of "Getting Ready," which includes new sections called "Magic Time," "I'm a Rebel," and "Patrice Stands Up." We filmed the whole sequence, it was really funny and stylish, it helped explain a lot about the characters and the specific setup of the Bloodmaster scheme, and just like "What It Means To Be A Friend," one day it just vanished. It's a particular bummer because those songs were a great chance to hear more fantastic singing from Lindsey Blackwell and JD McCrary. (I chose the picture above because, while there are very clear shots in the movie of the hysterical graphics that our designers came up with for The Delightables and The Bloodmaster, you might miss the poster for the dark psychological drama Into The Thicket featured on the left wall here.)
YES IT'S REALLY THEM. EXCEPT.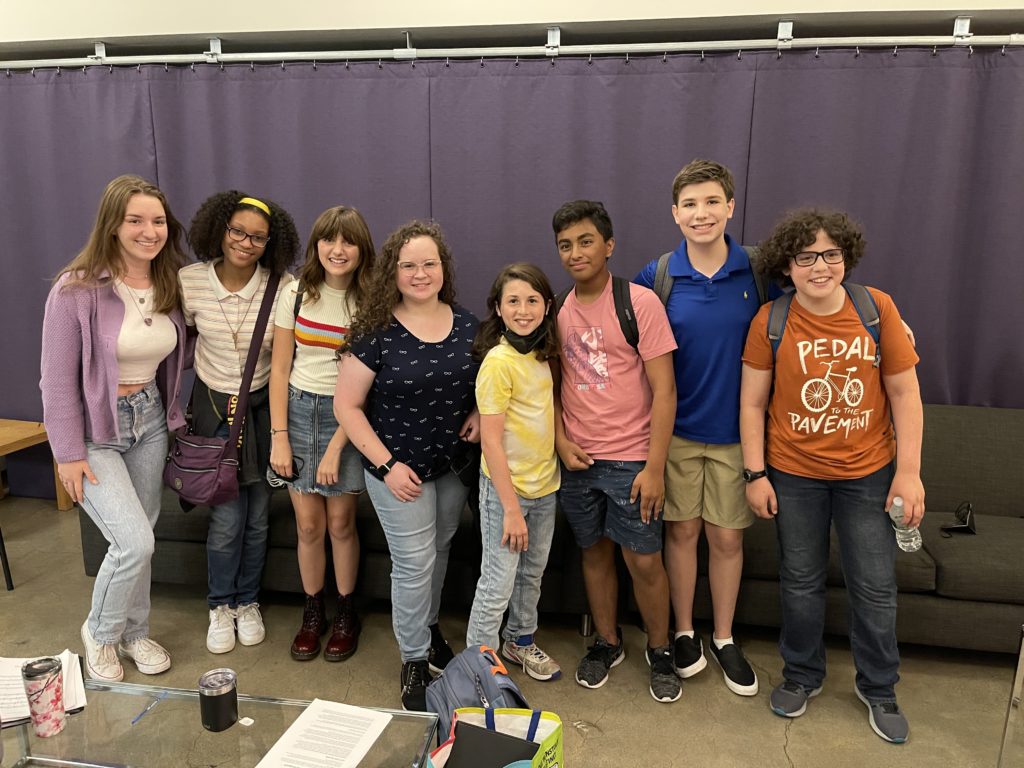 Every time you see one of the fourteen principal kids singing on screen, that's really their voice. (As is true of the great Debra Messing.) For COVID-19 reasons, almost nothing was sung live to camera, but let me assure you: Georgia and I supervised every single vocal session, and what you're hearing is what we heard. However, when you see a group of forty kids all singing together in a big dance number, those vocals were augmented by an amazing group of kids that Georgia and I pulled together in New York last summer, and I want to acknowledge them here because they show up all the way through the movie, but they're especially prominent in the opening number, where they sing all of the solo lines that Evan (Eli Golden) doesn't sing. They are: Molly Brown, Gloria Manning, Kaylin Hedges, Isabella Rose Sky,Ari Sklar, Nirvaan Pal, Joshua Turchin, and Andrew Maskoff! (Shoutout also to William Bignami, Sydne Carmon, Jesse Chitwood, Faith NIbbe, Phoenix Reisser and Aria Walters, who did additional vocal work in LA with Harvey Mason, our executive music producer.)
MAKING A MOVIE DURING COVID IS NO JOKE, Y'ALL.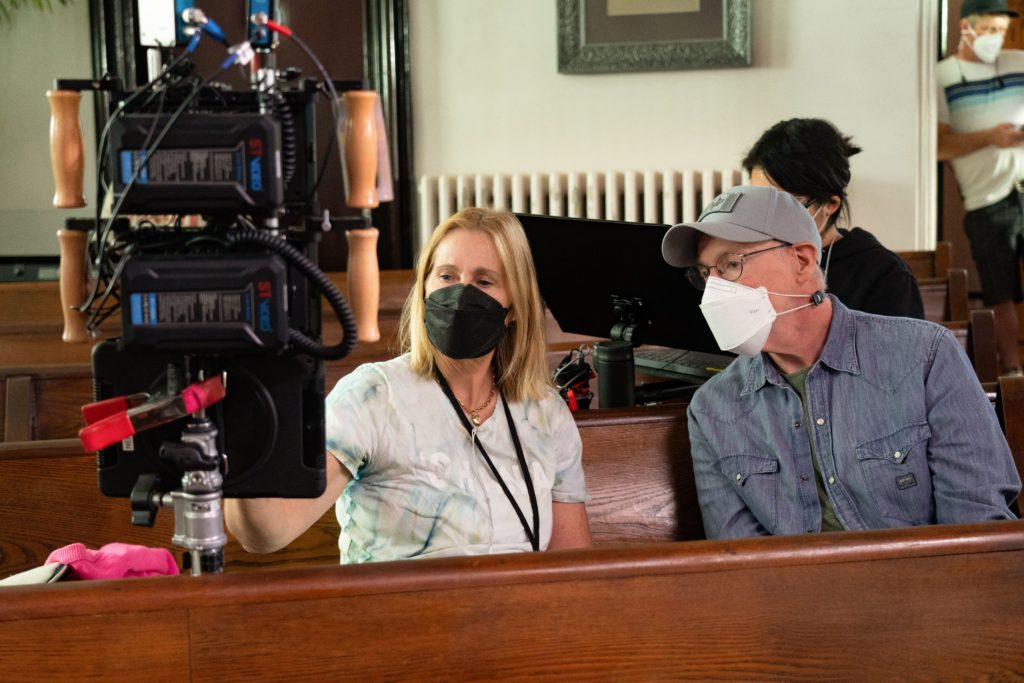 We got to Toronto in March 2021 just as a surge in COVID cases hit the city, and while all of our friends back in NY were getting vaccinated, there were no vaccines to be had in Canada for love or money. So we all had to quarantine for two weeks before we started work, and then when we showed up, we all had to be masked AND visored at all times, and we were tested daily. We had a COVID expert working on set with us, and she had just done another movie with a large orgy scene in it. She said to us, "Unfortunately for you guys, singing is more dangerous than sex." I want you to imagine what it was like for the kids to sing while they were wearing masks and shields. I want you to imagine what it was like for the music staff to teach the songs. I want you to imagine doing read-throughs of the script while everyone had to be ten feet apart and masked and shielded. That was our life for three months. And it was COLD. But: credit where it's due – thanks to those insane protocols, no one got COVID during the entire pre-production and shoot, production never had to be halted, and the kids (some of whom had multiple medical challenges) stayed safe the whole time. But if you were wondering why almost every ensemble number was shot outdoors, now you know.
AND SO BECAUSE OF ALL THAT COVID QUARANTINING CRAZINESS…
… We couldn't get Ariana or Liz or any of the original cast on to the set to do a cameo. Everyone wanted to do it. It would have been really fun. But on top of all that, I wasn't on the set. Anyone who wasn't absolutely essential to filming was sent home, including me and Robert and Georgia. So we never got to see any of the movie get shot, and I never met Rhea or Josh or Peter until this week when we did some publicity stuff together. Stupid COVID.
DAD DID NOT MEET A STEWARDESS.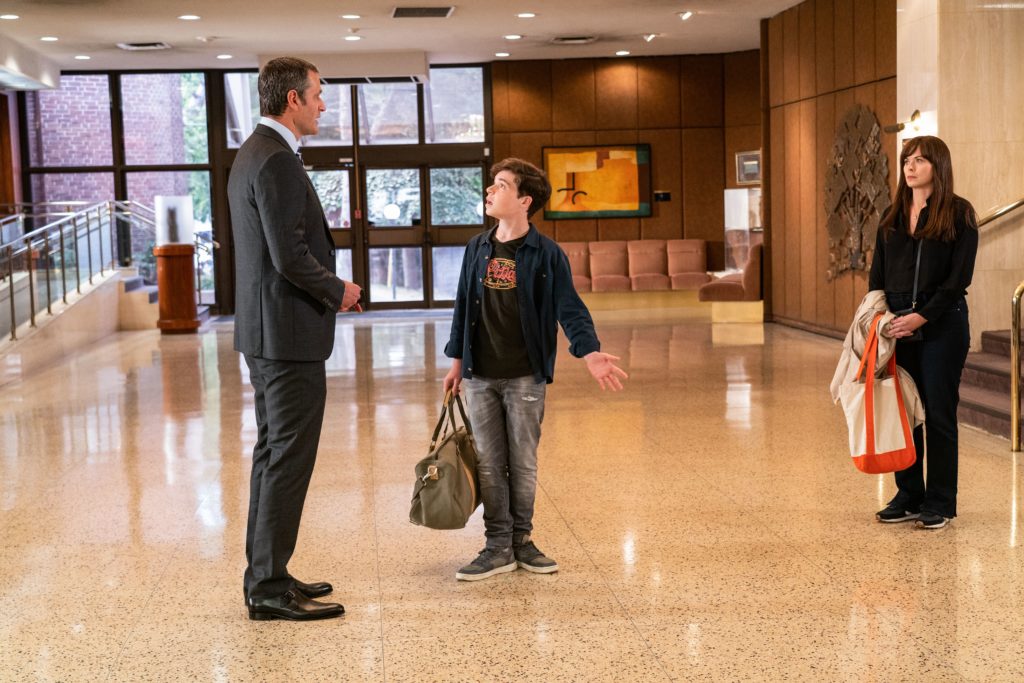 It's one of the first lyrics in the musical, "Who'd have guessed, Dad would meet a stewardess?", and I've been wishing I could change it since virtually the day I wrote it. The whole idea of "running off with a stewardess" sounds like a plot from 1965, and also, they're not called "stewardesses" anymore; they're "flight attendants," thank you very much, and no good flight attendant would dare to ruin the Goldman's marriage! (There were several scenes in the new screenplay that explained that Joel ran off with a yoga instructor, but they got cut, as did the yoga instructor herself, who had some hilariously awkward scenes to play. Oh well.)
"HEY, WE REALLY LIKE THAT NEW SONG, AND WE'RE DOING 13 THIS FALL, CAN WE…?"
Nope. Also nope to the dialogue, the new characters, the new lyrics. The show is the show, the movie is the movie. And Netflix has a very large and well-paid legal department that will remind you of this should you "forget."
A WORD ABOUT DIVERSITY.
Within the town of Walkerton, Indiana, Evan's fellow students represent a broad spectrum of racial, ethnic and gender identities. It is entirely fair to say that the real town of Walkerton, Indiana is nowhere near as diverse a place as the movie version. According to the 2020 census, 91% of the population identifies as "white." In fact, one of the reasons I chose to set the show in a small town in Indiana is that such a place would be flat, conservative, and predominantly white, which is to say, the exact opposite of Evan's life in Manhattan.

All of that notwithstanding, the creative team unanimously agreed that we wanted all kinds of kids in this movie, even if it diminished the clarity of the cultural hurdles Evan has to clear. 13 is a movie for families, and we wanted it to be something that all families could watch and identify themselves in. Being "different," being "an outsider," that doesn't rely on your genetic heritage; even in completely homogeneous communities, there are always some people who simply don't fit in. So given all the other unrealities of a movie musical – like the fact that large groups of people suddenly start dancing and singing in unison – it seems silly to insist on some kind of documentary authenticity for the student body at a fictional junior high school. One can suspend one's disbelief for any number of reasons; this is a good one.
But it was equally important that if the script specified something about a character, then that character should be represented authentically. The character of Archie has muscular dystrophy, and so our magnificent casting team at Telsey and Co. (led by the wonderful Kristian Charbonier) went out into the world to find a kid with muscular dystrophy who could sing, act, crack jokes, and handle the rigors of making a movie. Finding Jonathan Lengel was a miracle. Archie's role in the movie is much smaller than it is in the show, but Jonathan manages to make Archie an equal to all the other characters, and he brings a specific understanding of his life in that wheelchair to his performance. Certainly there are plenty of kids who could sing the notes and say the lines, but Jonathan is able to make Archie a full human being because Jonathan knows what it's like to live in Archie's skin, and he's a skilled enough actor to be able to communicate it. That's the gift of authentic casting.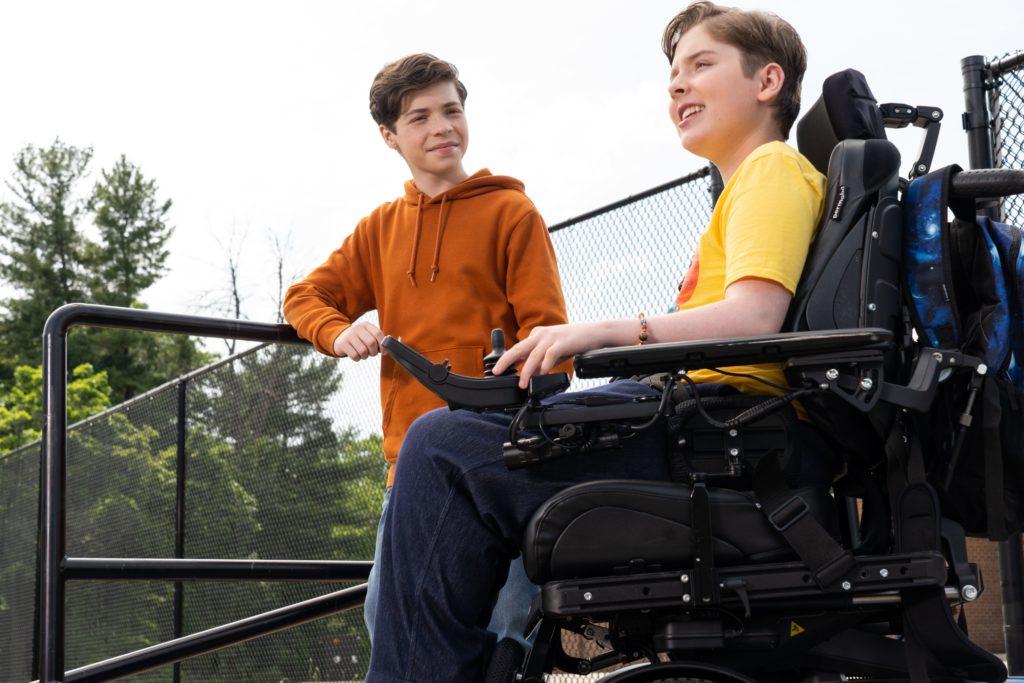 Likewise, there are five characters in the script who are specifically Jewish, and while I'm not inclined or qualified to get into debates about what constitutes a Jewish identity, it was of paramount importance to me that the Jews in this movie – a movie about a Bar Mitzvah, after all – be played by Jewish actors. There is always something strange and disconcerting to me as a Jewish person when I watch a Gentile actor play a part that is obviously intended to be Jewish. It's no slight on Rachel Brosnahan or John Turturro or Kathryn Hahn to say that even the most meticulously researched, scrupulous and respectful portrayal can seem uncomfortably like caricature; and it goes without saying that there are plenty of Jewish actors who are capable of playing those roles. Robert Horn and I are both Jewish, and Evan, Jessica and Joel Goldman, Ruth Klein and Rabbi Shapiro are people drawn from our own lives and communities. So it feels like a real achievement to me that those characters are played by actors who instinctively understand the rhythms of that dialogue and the customs that these characters live with, because the entertainment business in general does not seem to care much one way or the other about it, but I do. (I will have the discussion about Brent Carver and Norbert Leo Butz on another day, thank you very much.)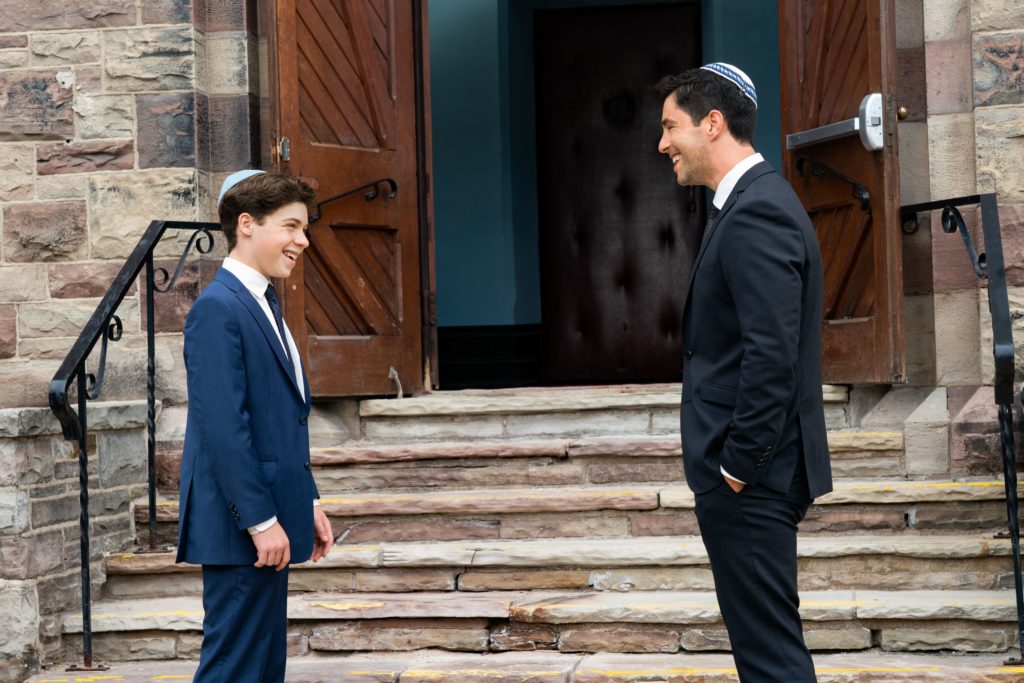 THERE IS A NOVEL.
Back in 2007, Dan Elish and I were commissioned to write a novel based on 13 that would be released right when the show opened. The weird part is that we had to turn in the book eight months before our opening night on Broadway, and anyone who works in the theater knows that a lot can change in eight months. So the book actually tells a slightly different story than the musical, although the characters are all basically the same. Anyway, it's a really funny book and worth exploring if your teen-to-be wants to dive deeper into Evan, Archie, Patrice and the gang. You can buy it at Target. (It's worth noting that this edition is slightly edited and updated from the original release, and Dan and I are very grateful to have had the chance to re-examine some of our more cringey jokes.)
AND THEN THERE'S THIS:
The New York Times has published an oral history of the original Broadway production, with quotes from most of the cast and creative team (including Ariana, Liz, Graham, Tom Kitt and Charlie Rosen). I cried through the whole thing, and I want to thank Nancy Coleman for doing such a great job with it. You can read it here.
So, go watch already!