Posted on October 23, 2018 at 5:16 am

You could find a dictionary definition of "charisma," or you could just watch Ty Taylor. Here is a guy who pulls an audience right to him, whether he's in a stadium in front of 50,000 people or he's doing a solo show in a small theater. To get to be on stage with someone who is so in command of his craft, so committed to making music and sharing joy, is one of the great pleasures of my life.  Given the strength of our musical connection, I'm always kind of surprised to remember that Ty and I actually don't know each other very well – when he showed up at the studio to record the Songs for a New World album in 1996, it was really the first time we'd even had a conversation; and in those twenty-two years, we've traveled very different paths – me on Broadway and in Los Angeles, and him as the leader of several rock bands, the most recent of which is the gloriously hyperkinetic and phenomenally successful soul-rock ensemble Vintage Trouble.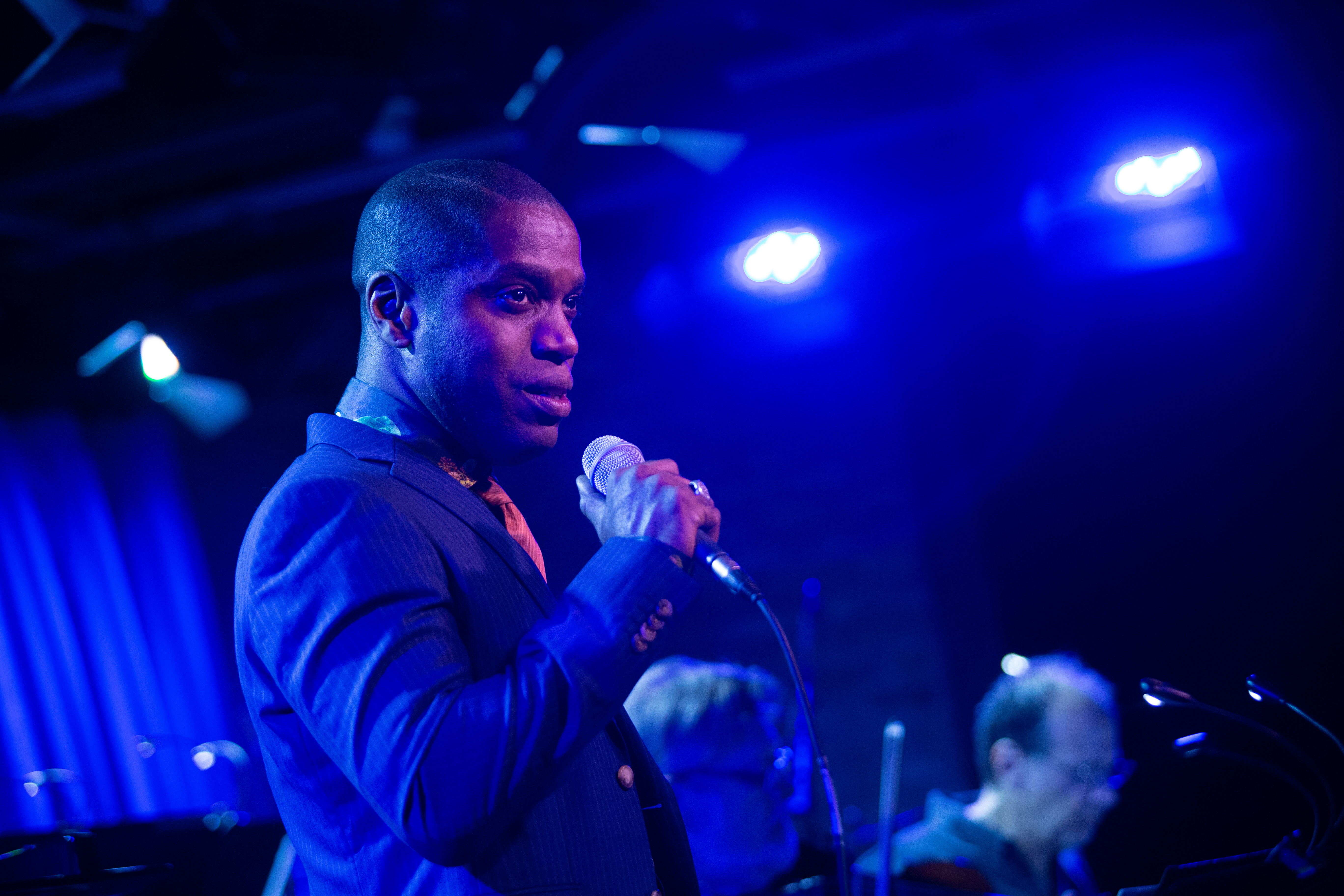 What's kept us in touch with each other is just Facebook and our mutual admiration. Ty got to do one concert with me in Pasadena eight years ago, and that night marks the only time he's ever performed any of his Songs for a New World material live. (If you're coming in late to this story, the inimitable Billy Porter originated the role onstage but was contractually barred by his record company from making the cast album – Ty stepped in many months after the rest of the cast had recorded their tracks, and in only two sessions, he magically inhabited all of that material, and his performance on that CD introduced those songs to the world.) But we write to each other all the time, just checking to see when we might be able to make some music together again.  Well, as it happened, I caught him online in September and asked him, just on a whim, if he maybe wanted to come to town to do my October concert, and he moved mountains so he could be there. (And he did a concert in NY the night before, and a concert in Nashville the very next night, all during the same week his new Vintage Trouble singles were being released! He's the hardest working man in show business!)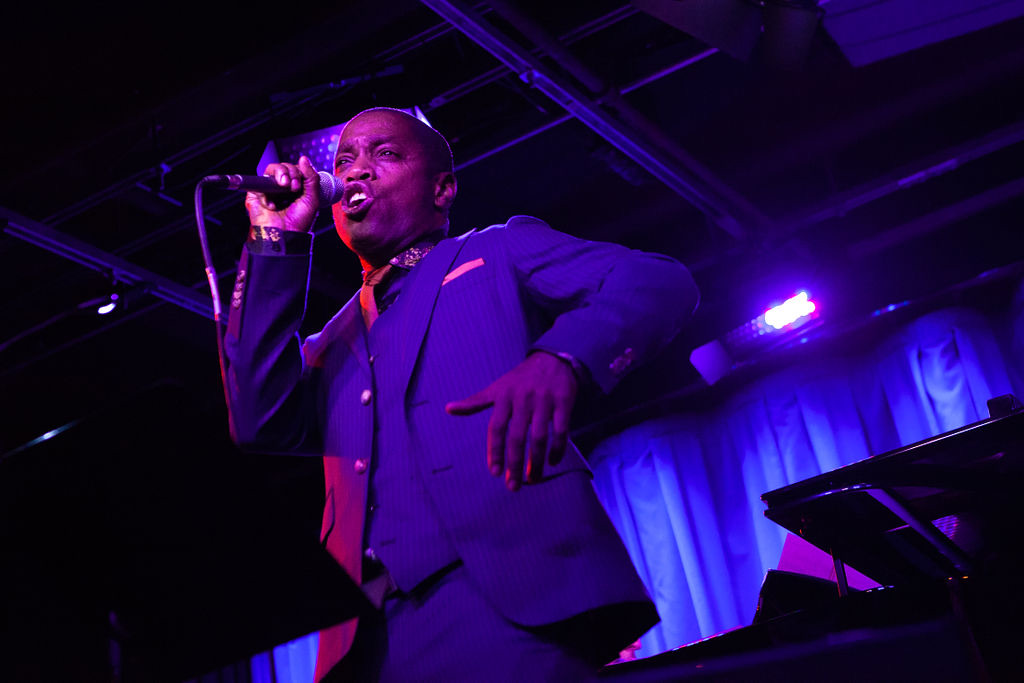 Ty knew "King of the World," of course, but I also wanted him to try "The Hardest Hill" because I knew it would beautifully tap his inner Sam Cooke. Ty also brought two fantastic songs from his new solo project, Ty Taylor's Nouveau Mid-Century Romance Songbook: a hard-swinging uptempo called "New Guy In Town," and the devastatingly brave and surprisingly soaring "Unhand," about an early experience with sexual abuse. The one real favor I asked of Ty was to help me celebrate Leonard Bernstein's 100th birthday by singing one of my favorite Lenny songs, "A Simple Song" from Mass, which I arranged into a slow jam with a glorious violin solo by our own Todd Reynolds; Ty sang it straight up into the heavens.
In addition to celebrating Lenny, there was one other legend to whom I wanted to pay tribute. The extraordinary and indefatigable Charles Aznavour passed away in October after a sensational life and peerless career, and I'm honored to actually have a small footnote in the Aznavour story. M. Aznavour wrote a musical based on the life of the great French painter Henri Toulouse-Lautrec, and in 2013, I was hired to adapt those songs for a new production, now with a libretto by my Parade collaborator Alfred Uhry, and to write new English lyrics and musical arrangements as necessary.  (The show, eventually entitled My Paris was produced at Goodspeed in 2015 and at the Long Wharf Theatre in 2016.) It's a strange and tricky job to adapt someone else's work, especially when that person is still alive and is understandably very protective of what he's written, but Aznavour and I respected each other, and I genuinely loved his songs; I'm very proud of what I was able to accomplish on that show.  At one point in the writing process, a new song was needed for the female lead of the show – Charles wasn't available to write a new number at that moment, so I just grabbed one of his albums in the hope that perhaps he had already written one song might fit what we needed. After only hearing the first notes of "Tu ne m'aimes plus," I knew I had found exactly the right musical feeling; ultimately the French lyrics didn't suit the occasion, and so I wrote a new lyric from scratch, and it turned out to be one of my favorite lyrics I've ever written.  I've never done the song before at one of my shows, but this felt like the perfect occasion, so I asked the luminous Sierra Boggess if she would learn it and come sing it.  She did, and she broke all our hearts.

Oh, also, it was the night after our 15th wedding anniversary, so I had to get Georgia up for a dance during "Caravan of Angels"!

I'm so grateful to Ty and Sierra and of course my fantastic band for filling a Saturday night in October with so much celebration. I can't wait to make more music with all of them!
Invisible from How We React and How We Recover (2018)
Everybody Knows from How We React and How We Recover (2018)
The Used-To-Be-Us (2018)
TY: New Guy In Town from Nouveau Mid-Century Romance Songbook (music & lyrics by Ty Taylor purchase album here; 2018)
TY: A Simple Song from Mass (music by Leonard Bernstein, lyrics by Bernstein & Schwartz; 1971)
TY: The Hardest Hill from How We React and How We Recover (2018)
SIERRA: Another Life from The Bridges of Madison County (2014)
SIERRA: What I Meant To Say from My Paris (music & lyrics by Charles Aznavour, English lyrics & musical adaptation by JRB; 2014)
Hallowed Ground from How We React and How We Recover (2018)
TY: King of the World from Songs For A New World (1995)
TY: Unhand from Nouveau Mid-Century Romance Songbook (music & lyrics by Ty Taylor purchase album here; 2018)
Caravan of Angels from How We React and How We Recover (2018)
Melinda from How We React and How We Recover (2018)
Encore: All Things In Time from How We React and How We Recover (2018)
Ty Taylor: vocal
Sierra Boggess: vocal
JRB: piano, vocal
Todd Reynolds: violin
Gary Sieger: electric and acoustic guitars
Randy Landau: electric and upright bass
Jamie Eblen: drums