Posted on December 23, 2017 at 6:41 pm
The first time I recall meeting Stephen Schwartz was at a party at Daisy Prince's apartment, before I had ever gotten any of my shows produced and long before anyone other than Daisy knew who I was. At a certain point in the party, most of the folks had wandered off to the dessert table in the other room, and Stephen was at the piano with only three or four people around him while he sang songs from Pippin and Godspell and told stories. I was staring at a bookcase (this is the sort of thing I do at parties even now) and marveling at the fact that I was hearing those songs that had first convinced me that musical theater could sound contemporary, could speak in a true pop vernacular, played and sung by the guy who wrote them.
I believe this was 1993 or 94. Back then, after Stephen had written three smash hit shows in the 70's (amazingly, in 1974, when he was 26 years old, all three were all running simultaneously on Broadway), Stephen had created several pieces which, for all their merit, could not find their commercial footing – The Baker's Wife, Working, Rags, Children of Eden. Either at this party or in some interview around this time, I heard Stephen say he couldn't imagine writing for Broadway anymore; he and Alan Menken were working together on some movies for Disney and he loved Hollywood and the kind of work he was able to do there.
It was in this context that I quietly made my way to the group at the piano and requested that Stephen play "Fathers and Sons," the unexpected heartbreaking 11 o'clock number from Working that brings all of the men in the show together to explain why they do the backbreaking and largely unappreciated labor that they've been singing about for the previous two hours of the play. I knew it was a "deep cut," not the sort of thing he got asked to do at most parties, but I had a hunch he'd know it by heart. I requested it not just because I love the song but because I wanted to convey something to him, in a way I could never have said directly: Stephen Schwartz, I am a young composer and you should know that the work you do in the theater is important to me, please don't stop writing for the theater even if you feel unappreciated.
As I suspected, Stephen knew the song cold, and he played and sang it with deep emotion. The folks who had been happily belting along to "Corner of the Sky" got quiet and drifted off, but I stayed there, rapt and connected. When he was done, I thanked him and tried to engage him in a conversation about music, but he was already off the piano bench and headed towards another room. I ended up sitting next to the piano by myself while the rest of the party was happening elsewhere.
You would not have predicted that Wicked was only a couple of years in the future. And you would not have predicted that twenty-some-odd years after that party, Stephen and I would be sharing a stage together, singing each other's songs, making music as friends and collaborators and colleagues.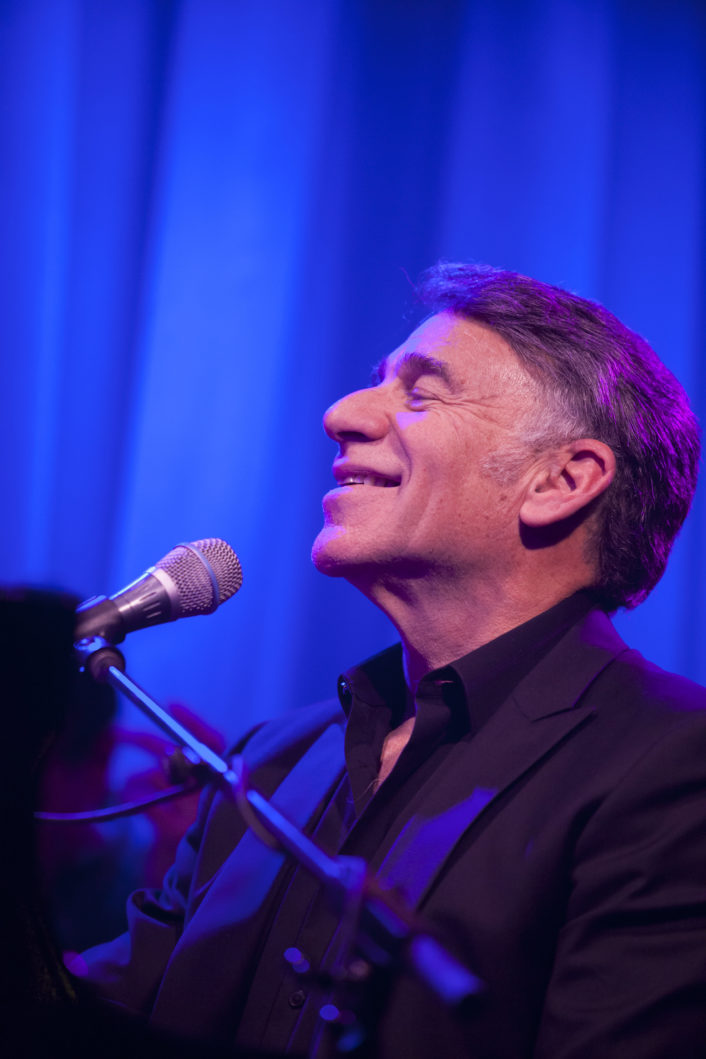 When I approached Stephen this summer and invited him to do this concert with me, he accepted immediately, and we set two ground rules: 1) the show should be evenly divided between his work and mine, and 2) we each would arrange and sing two songs that the other had written. I then suggested adding my glorious Bridges of Madison County cast member (and previous SubCulture guest) Jessica Vosk to the show, knowing that she'd spent the past year and a half playing Elphaba around the country and therefore was perfectly suited to sing material by both of us. And so, piece by piece, we built an evening of shared music and mutual celebration.
Then we sold out in two hours, so we decided to do it twice.
One of my old camp friends from French Woods was at the show, and he said to me as he was leaving, "I don't even know how to process the fact that when we were fourteen years old, we all stood around the piano while you played Stephen Schwartz songs, and tonight we were all sitting here while Stephen Schwartz sang YOUR songs." Honestly, I don't know how to process that fact either, but it was an extraordinary honor. I am so grateful that Stephen not just agreed to come sing and play with me, but that he spent so much time to learning my material and finding something personal and heartfelt to say with it, worked with me and Jessica on his songs, and allowed me to transform and arrange his iconic songs in my own way so we could hear the sheep bleat in a different key. I can't think of a more wonderful way to end this exhausting, tumultuous year. Thank you, Stephen Schwartz, for the whole kit and caboodle. I'm so happy I could melt.
SS & JRB: On The Right Track (by SS, from Pippin, 1972)
JRB: Neat To Be A Newsboy (by SS, from Working, 1978)
SS: Someone To Fall Back On (by JRB, from Wearing Someone Else's Clothes, 2005)
JESSICA: West End Avenue (by SS, from The Magic Show, 1974)
JESSICA: Another Life (by JRB, from The Bridges of Madison County, 2014)
JRB: Melinda (by JRB, 2015)
SS: Crowded Island (by SS, from Reluctant Pilgrim, 1997)
JESSICA: Forgiveness's Embrace (by SS, from Uncharted Territory, 2001)
JESSICA: Cassandra (by JRB, from The Connector, 2016)
JRB: Fathers and Sons (by SS, from Working, 1978)
SS: It All Fades Away (by JRB, from The Bridges of Madison County, 2014)
JRB & SS: Wait 'Til You See What's Next (by JRB, 2015)
–
SS: Have Yourself a Merry Little Christmas (music and lyric by Hugh Martin and Ralph Blane, 1944)
JRB: Hope (by JRB: 2016)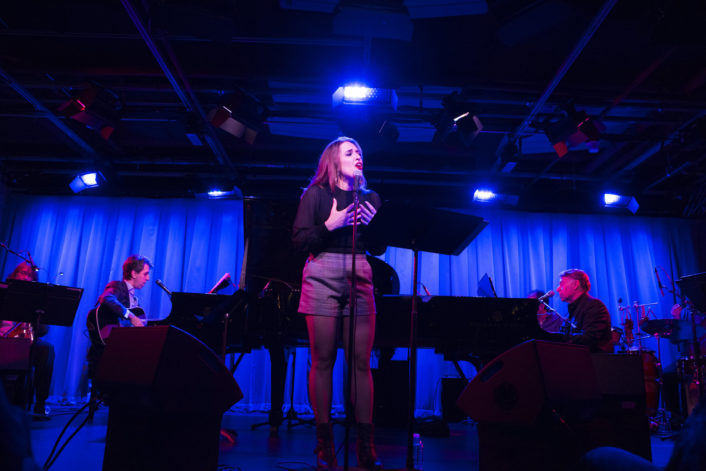 Piano and vocal: Stephen Schwartz
Piano, guitar and vocal: JRB
Vocal: Jessica Vosk
Guitars: Gary Sieger
Basses: Randy Landau
Percussion: Benny Koonyevsky
Violins: Tomoko Akaboshi, Katherine Livolsi-Landau
Viola: Monica Davis
Cello: Mairi Dorman-Phaneuf