Posted on January 5, 2009 at 3:21 pm
In 2002, I came up with an idea for a musical that would be combined with a book series, aimed at and featuring teenagers. (Note, please, that this was several years before High School Musical was part the cultural Zeitgeist; at the time, nobody was thinking about teenagers and musical theater.) The idea was about a kid turning 13 and trying to make sense of an utterly chaotic life. I thought of six characters, all of them fairly archetypal but with some quirky twist, and put them in an anonymous Midwestern suburb, and started to determine the ways they'd interact. When I was 13, I felt utterly alone, and I was totally convinced that adults didn't understand a single thing about the tortures I was going through; I thought the best way to reflect that feeling in a theatrical setting was to keep the adults offstage entirely: have the whole show be performed only by 13-year-olds, thirteen of them, and let them define the world they live in and the rules used to tell the story.
I pitched this idea to a woman at Scholastic Books who seemed vaguely enthusiastic, but nothing ever came of that meeting. So my idea sat around for almost exactly a year, and then Dan Elish sent a copy of one of his books to my house and asked if I was interested in adapting it into a musical. The book didn't interest me all that much, but I liked the tone of Dan's writing and the way he created believable and funny teenage characters, so I showed him my Scholastic pitch and asked him if he would be interested in collaborating with me to turn this story about a New York kid having his Bar Mitzvah in the Midwest into a full-blown musical. He was willing to give it a shot, and we started meeting every couple of days on the Upper West Side to flesh out the story and the general shape of the show.
(A month after our first meeting, Dan and his wife welcomed their first child into the world. She's now five and a half years old.)
It'll tell you a little something about working with me that I didn't have a finished draft of the first number of the show until March 2004, ten months after we had started meeting. It'll tell you something else about working with me that that first song is still in the show, and structurally, musically and lyrically, it is almost unchanged. (That's sort of a lie, the lyrics in the second verse are entirely different.)
A sidenote: Early on, I determined that one of the characters should have a problem that is distinct from the other kids; not just the usual teenage angst about being popular or failing school or parents breaking up, but something that in its sheer intensity would set him apart from everyone else on an emotional level. When I was 13 years old, everything felt like it was a life-or-death situation. I wanted one character to have a real life-and-death situation. In the course of my Internet research, I found a beautiful and very brave article by a woman named Penny Wolfson, whose then-fifteen-year-old son was coping with the effects of Duchenne muscular dystrophy. I realized that a 13-year-old boy with Duchenne would be terrifyingly poised between a fairly conventional if limited life and the onset of a serious diminishment in physical ability. I didn't want to make this character the lead of the show, I really wanted him to function as a reality check for the other characters, a sort of conscience. Most importantly, I didn't want him to be noble and pathetic, like Tiny Tim; I wanted him to be annoying and complicated and unpredictable – in short, a real teenage boy. This paragraph isn't particularly germane to the rest of this entry, but I wanted to acknowledge Ms. Wolfson and thank her for her remarkable candor and the generosity of her writing. We've never met or even corresponded, but "Moonrise" remained an important creative touchstone for me throughout the writing of 13, and the idea that we were giving voice to a kid who suffered the same challenges as Ms. Wolfson's son inspired me to keep going whenever the process got especially difficult.
According to my notes, I wrote 36 songs for 13 over the course of its development, and that doesn't include some very large changes to existing songs. I'm also not entirely sure I'm finished yet, which is an astonishing thing to find myself typing. To bring those songs to life, and finally to Broadway, I relied on the incredible talents of a phalanx of teen actors, and the standard was set very high from the first time I shared one of the songs with an audience.
I had come to Los Angeles in June of 2004 to participate in a concert at Disney Hall, and while I was there, I booked a night at a cabaret called the Cinegrill. I had a song that I was ready to try out in public, so I asked a director I knew in LA named Calvin Remsberg if he could recommend a teenage girl. He introduced me to a gorgeous and talented 14-year-old named Chelsea Lena (she had a last name back then, but she doesn't use it professionally anymore so I won't either), and the first time anyone heard "What It Means To Be A Friend" was in Chelsea's graceful, impassioned and beautifully sung performance on June 14, 2004.
Later that summer, my casting director Mark Simon and I took Dan up to French Woods, the performing arts camp at which I had spent most of my summers when I was a teenager. We held three hours of auditions, and then another three hours in Manhattan that September, and from those two days, we cast the first reading of the show, which we did on September 11, 2004 in the basement of Lincoln Center Theater. (We had only written about thirty minutes of the show at that point, but I wanted to get some kids in the room and find out whether what we were writing felt authentic before we got in any deeper.)
This was the cast of that first reading:
Ricky Ashley (Evan)
Ben Rosenbach (Archie)
Krista Pioppi (Patrice)
Ali Freezman (Lucy)
Jill Schackner (Kendra)
Jordan Wolfe (Brett)
Gerard Canonico
Harrison Chad
Evan Daves
Jimmy Dieffenbach
Libbie Jacobson
Charlotte Maltby
Tashi Washington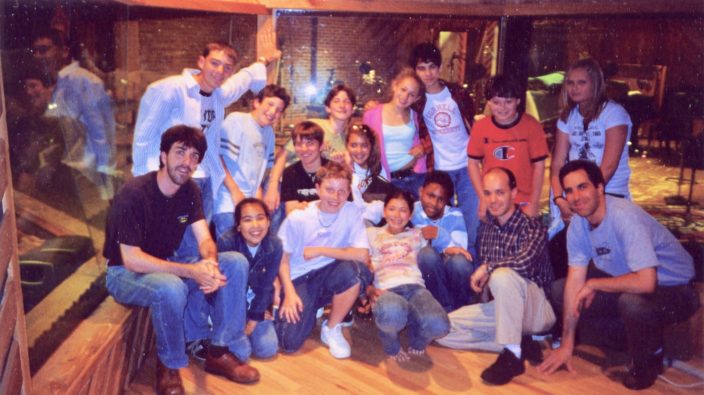 I went to London right after the reading to do a series of concerts at the New Players Theatre, and I was joined by Vanessa White, who is now a member of the very popular British girl group The Saturdays but who was then just an amazingly talented 13-year-old who gave "What It Means To Be A Friend" its British premiere performance.




Thanks to Michael Ritchie and Center Theatre Group, Dan and I got to do a workshop of the show in Los Angeles in February of 2006, directed by Todd Graff and choreographed by Michele Lynch, with musical direction by David O. The casting director was Erika Sellin. And not only did we find thirteen great kids for the cast, but for the first time, we had a teen band, which I felt was crucial to the sound and feel of the show.
Blaine Miller (Evan)
Daryl Sabara (Archie)
Sara Niemietz (Patrice)
Rachel Hirschfeld (Lucy)
Meaghan Jette Martin (Kendra)
Jacob Nelson (Brett)
Jamie Dahlke
Ellington Ratliff
Jonathan Michael Sison
Seth Zibalese
Jenáe Burrows
Chelsea Colwell
Shay Louise
Chris Raymond (guitar)
Charlie Rosen (guitar)
Nehemiah Williams (bass)
Jamie Eblen (drums)

Based on the success of that workshop, CTG put "13" into their season at the Mark Taper Forum. Jen Rudin Pearson joined the casting department for that production, and in December 2006, the first time a paying audience saw any version of "13," it was with this cast:
Ricky Ashley (Evan)
Tyler Mann (Archie)
Sara Niemietz (Patrice)
Caitlin Baunoch (Lucy)
Emma Degerstedt (Kendra)
JD Phillips (Brett)
Ellington Ratliff
Seth Zibalese
Christian Vandal
Ryan Ogburn
Tinashe Kachingwe
Chloe Smith
Jenáe Burrows
Alex Scolari
Rachael Page
Julia Harriman
Matthew McFarland
Jordan Johnson
Aaron Albert
Ansel Elgort
Chris Raymond (guitar)
Molly Bernstein (guitar)
Charlie Rosen (keyboard)
Nehemiah Williams (bass)
Jamie Eblen (drums)
Max Kuehn



[CTG has an online production archive, including photos and articles and the program from this production; you can see it here.]
Bob Boyett came to see the show at the Taper (he had contributed enhancement money) and asked us immediately if he could produce the show on Broadway. There were a lot of changes he wanted to make, and there were a lot of things Dan and I wanted to fix, but Bob's enthusiasm for the project matched (or maybe exceeded) our own, and we knew he was the best person in the world to bring our show to New York.
First, Bob wanted an entirely new creative team for the show. Some of his reasoning made sense, some of it seemed arbitrary, but ultimately, we all thought that a fresh set of eyes might be very helpful to bring the show to a better place creatively. And so, armed with our new director, Jeremy Sams, we set about rebuilding the show from the ground up.
One of my favorite days in the development of 13 was a very private reading in December 2007. On that day, we asked a group of adult actors to read the latest draft of the script, just so we could hear it out loud without going through a new casting process to find more kids. This was the deliciously overqualified cast we used that day:
David Josefsberg (Evan)
Erik Liberman (Archie)
Sarah Saltzberg (Patrice)
Ashley Morris (Lucy)
Kate Reinders (Kendra)
Cheyenne Jackson (Brett)
Steve Rosen
Barrett Foa
(Sorry, no pictures from that day, sadly!)
We all left that reading very enthusiastic and determined to push forward, even though we still had a lot of work to do on the script. A reading was put together in January 2008 to interest producing partners and investors, and Mark Simon came back on board to cast a whole new group of kids as we started our journey to Broadway.
Douglas Fabian (Evan)
Aaron Simon Gross (Archie)
Hannah Freeman (Patrice)
Elizabeth Egan Gillies (Lucy)
Kathryn Foley (Kendra)
Malcolm Morano (Brett)
Evan Daves
Eamon Foley
Danielle Freid
Ariana Grande
Alex Greenzeig
Sascha Peralta-Ramos
J.J. Singleton


The show was beginning to find its shape, and it was also beginning to find its producing partners – Roger Berlind signed on, as did Ken Davenport, and now the clock started ticking. (Ultimately, fourteen producers shared above-the-title credit.) We were aiming for a Broadway opening in the fall, and in the interim, Boyett arranged for us to do a small-scale production at Goodspeed Musicals in Chester, Connecticut (where I had orchestrated john and jen in 1993!). On the first day of rehearsals for the Goodspeed production, Robert Horn joined the team to revamp the book of the show (Dan and I had been doing it for five years and had both reached the end of our ability to make the changes the producers and director were asking for), and Tom Kitt came on board as musical director with Chris Gattelli jumping in as choreographer. We also got a new teen band, which featured the lead guitarist from the L.A. production, Chris Raymond, who has the distinction of being the only person to have been onstage with the show in L.A., Goodspeed and Broadway. (He is fully seven inches taller than he was when he started.)
Graham Phillips (Evan)
Hudson Thames (Evan [alternate])
Aaron Simon Gross (Archie)
Allie Trimm (Patrice)
Elizabeth Egan Gillies (Lucy)
Ashton Smalling (Kendra)
Eric Nelsen (Brett)
Ariana Grande (Charlotte)
Caitlin Gann (Molly)
Taylor Bright (Cassie)
Eamon Foley (Richie)
Joey LaVarco (Simon)
Kyle Crews (Malcolm)
Alberto Calderon (Eddie)
Chris Raymond (guitar)
Zach Page (guitar)
Lexi Bodick (bass)
Adam Michael Kaufman (keyboard)
Zac Coe (drums)



We left Connecticut with wildly positive responses from the Goodspeed audiences, great enthusiasm from the producers and investors, and a clear sense of what the creative team still had to do. On July 16, 2008, we started rehearsals for the Broadway production, armed with new songs, a new script, and our final cast of unimaginably gifted teens, the culmination of over a year's worth of casting. The kids came from all over the country, including California, North Carolina, Connecticut, New Jersey, and two kids who, unbeknownst to us when we cast them, were best friends growing up in Boca Raton, Florida.
Graham Phillips (Evan)
Corey J. Snide (Evan [alternate])
Aaron Simon Gross (Archie)
Allie Trimm (Patrice)
Elizabeth Egan Gillies (Lucy)
Delaney Moro (Kendra)
Eric Nelsen (Brett)
Ariana Grande (Charlotte)
Caitlin Gann (Molly)
Brynn Williams (Cassie)
Eamon Foley (Richie)
Joey LaVarco (Simon)
Malik Hammond (Malcolm)
Alberto Calderon (Eddie)
Henry Hodges
Riley Costello
Max Schneider
Mary Claire Miskell
Liana Ortiz
Chris Raymond (guitar)
Zach Page (guitar)
Lexi Bodick (bass)
Adam Michael Kaufman (keyboard)
Zac Coe (drums)
Charlie Rosen
George Sarpola



Those were the kids who recorded the original cast album in September, opened the show at the Jacobs Theatre on Broadway on October 5, and closed the show yesterday, January 4, 2009. They all dug deep into themselves and delivered something more than anyone expected from them, and maybe more than they expected from themselves.
All the kids on this list brought 13 to life, and their DNA is embedded in every line and every note of the show. For the past six years, they have inspired me, challenged me, frustrated me, surprised me, and reminded me that I went into the theater professionally because of the joy and the passion I felt when I did it as a teenager. It has been a privilege to be in the presence of that joy and passion again. Since I started working on this show, my daughter was born, my father passed away, I moved from New York to Italy to Los Angeles, and I've redefined my life and my career completely. I have been very lucky in that time to have the constant of these gorgeously talented young people ready to bring my work to fruition. Thank you all, honestly, really, truly, none of it was easy, but all of it was a blessing. I'm ready for the reunion whenever you are.