Posted on February 17, 2020 at 7:03 pm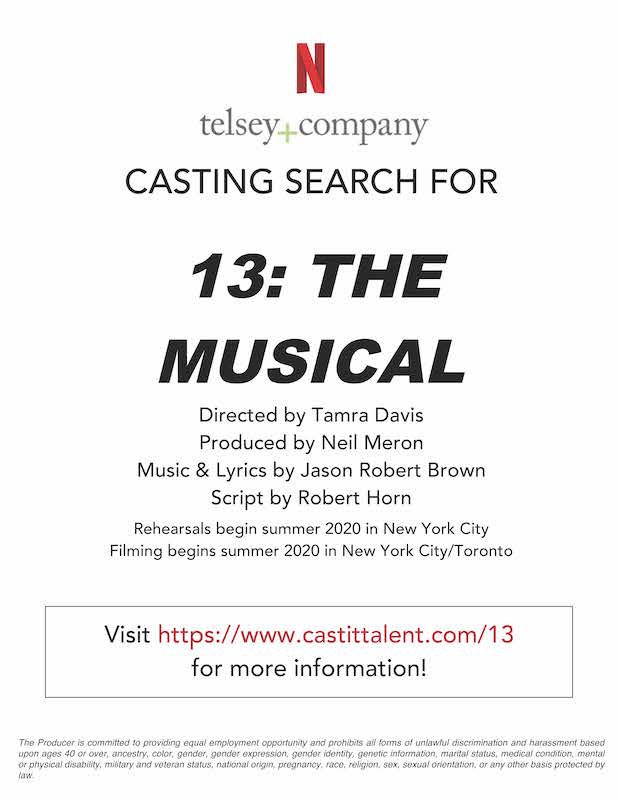 In September of 2004, my friend Dan Elish and I did a private reading of the first twenty pages or so of a new musical we were working on called 13. We filled a room with thirteen kids, all of whom were between 12 and 14 years old, and we watched as they brought our story to life. No one had ever proposed doing a Broadway show with a cast and band made up entirely of teenagers, but we were just nuts enough to think that it would be the most thrilling way to tell our story. It took four years from that reading to get to Broadway, but we did it: in 2008, we opened 13 at the Jacobs Theater, and since then, our crazy concept for a show has played in hundreds of productions all over the world, in dozens of languages, and given thousands of kids a place to bring their whole hormonally and emotionally wacked-out selves to the stage and the audience. But I can assure you that when we were in the basement of Lincoln Center Theater fifteen years ago, we never imagined that there would be … a major motion picture based on our show.
Surprise! Netflix came to us last year with an amazing proposal. They said, "Let us make a movie of 13!" and not just a filmed version of the show, but a real from-the-ground-up re-conception: bring the story up to date, flesh out the characters, and let Evan Goldman and his whole gang tear up the screen like nothing we've ever seen. Tony Award-winner Robert Horn (Tootsie), who co-wrote our original Broadway script, is back on the beat, full of new ideas about how to bring this story to life in a new medium. The amazing Tamra Davis – the only person I know who could have possibly directed Adam Sandler, Tone Loc and a documentary about Basquiat – is behind the camera. The legendary Neil Meron, who knows everything there is to know about turning musicals into movies, is producing. And here I am, writing a bunch of new songs and whipping the old ones into shape.
AND NOW WE NEED A CAST. Not just any cast, but a group of kids who can fill the unbelievable footsteps of our original Broadway company and all the stars who've been part of this show since then.
Telsey+Company is in charge of the casting, and they insisted that there had to be a nationwide search to make sure we found the best possible kids. So we're doing a video submission to start the process, and we want every interested teen to check it out and send us their best.
All the information you need is right here when you click this link. Once you choose your "role" on the right-hand side of the screen, you'll enter your email address and they'll send you the instructions for submissions.
But I'm going to tell you three more things that I think you should know.
1) We are looking for the most diverse and inclusive cast possible. So, for example, even though the casting website only allows you to choose "male role" and "female role," the instructions for both are the same, and so if you are a non-binary or gender-non-conforming teen, you are still welcome and strongly encouraged to submit your materials! If you are of any ethnicity, cultural background, religious affiliation, no matter your size or shape, we are looking for you … IF you are an amazingly talented actor, singer and/or dancer. That is the single requirement. You just have to be amazing. Which you are.
2) Sometimes these nationwide casting searches are just publicity things and it turns out that a whole bunch of TV and movie stars were already cast and no one really had any intention of putting some unknown in the lead. THAT IS NOT THE CASE HERE. We have not cast anyone. Not a single human being or pet has been offered a part so far. This is truly an open casting call. We are looking for you. It is true. I promise. Send in your submissions. We will never find you if you don't tell us where to look. (And incidentally, "nationwide" MEANS "nationwide." If you're in Alaska or Ohio, you're just as eligible as the kids in LA and NY. Do. It.)
3) If you know the show because you did it at camp or school or with your youth group, you may think you know whether you're "right" for the movie. You might say to yourself, "I could never get into the movie because I don't fit any of those parts that were in the show." Here's what I have to say: The Movie Will Be Different Than The Show. You don't know what we need because, I swear, we don't know what we need yet. But I suspect that what we need is YOU. So submit a recording so we can meet you and find out.
Enough talk! Go get your phone or your GoPro or whatever you need and start singing! I can't wait, can't wait, can't wait, can't wait for 13!
I see a brand new you!
JRB