Posted on December 10, 2017 at 1:44 am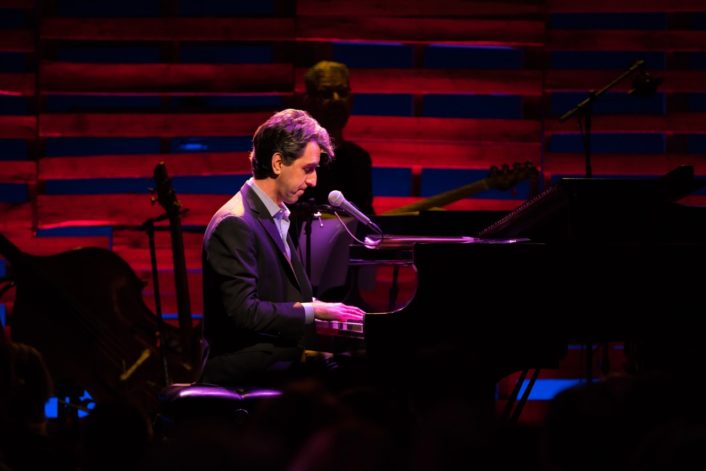 It's been a hell of a year, and I have the uncomfortable feeling it's going to get worse before it gets better, so what I try to find when I perform is some feeling in the room, some sense that we are all doing this together, that we are all fighting and hoping and despairing and waiting together. I brought a lot of songs to the Wallis Annenberg Center in Beverly Hills that I've only ever done in New York, and I asked two full houses to listen and share and connect with me. It was a glorious feeling, exultant, necessary, to be engulfed by the response.
The Sorting Room is a 200-seat black box theater within the Wallis complex, and I was delighted to find out that the stage was the exact same dimensions as the one at SubCulture in New York. We sold out the first show within hours of going on sale, and then the second one sold out as well (I ended up doing a lot of singing that day). Thanks to Patti Wolff for asking me to come and play at this gorgeous venue – I hope I'll be back soon.
Shaina Taub happened to be in town (to do her own show the night after mine), so I asked her if she would do me the kindness of singing "Cassandra," one of the new songs from The Connector that feels so important to me in this moment. Thankfully, she agreed, and also delivered a barn-burning "I Can Do Better Than That." As a writer and a performer, she is the Real Thing, and it's a real pleasure getting to make music with her.
I also got the thrill of playing with two amazing Los Angeles session monsters, bassist Trey Henry and guitarist Linda Taylor (along with my masterful drummer, Jamie Eblen, who – to my everlasting relief – took some time off from Dear Evan Hansen and shlepped in from New York for me).
I never would have imagined that Los Angeles would feel like home, but the fact is indisputable: I was surrounded by a room full of friends, colleagues, students, family, and it was as though I had invited everyone into my own living room instead of the beautiful, majestic Wallis Annenberg Center.Thank you, Los Angeles, for welcoming me back, if only for one night.
Hope (2016)
Melinda (2015)
Hallowed Ground (2016)
I Love Betsy from Honeymoon In Vegas (2015)
The Hardest Hill (2015)
Invisible (2016)
SHAINA: Cassandra from The Connector (2017)
SHAINA: I Can Do Better Than That from The Last Five Years (2002)
It All Fades Away from The Bridges of Madison County (2013)
Fifty Years Long (2015) [9 pm show only]
A Song About Your Gun (2016)
Wait 'Til You See What's Next (2015)
Moving Too Fast from The Last Five Years (2002)
JRB: piano, vocals
Shaina Taub: vocals
Linda Taylor: acoustic and electric guitars
Trey Henry: upright and electric basses
Jamie Eblen: drums and percussion