Posted on January 5, 2016 at 6:52 pm
I can't think of a better way to start out the New Year than by making music with my favorite singers and players in the world. Shoshana texted me the day I got to LA and said "You wanna do a show or not?", to which the only logical reply is "YES," and so Chris Isaacson offered us the great room at Catalina Bar & Grill for my one night off from conducting The Bridges of Madison County, and we got the party started.
Eblen was here anyway visiting his family, Landau wanted to come visit his old hometown, and my old session pal Andy Synowiec was down to play, so the whole gang was together.
And then Ariana wanted to come sing too.
By the time we took the stage last night, Catalina was stuffed well over capacity, and we all got down to the serious business of my first concert in LA in more than two years. Getting to hear Shoshana sing a brand new song I'd written for her? Getting to play "Melinda" for the first time on the West Coast? Getting to hear little Ari Grande all grown-up and famous and slaying what is honestly one of the hardest songs I have ever written? I don't even know how to describe what all of that felt like. It was a stage full of towering musicians, and I was honored to be part of it. Thank you, Shoshana, for pushing to make it happen, and thank you, Los Angeles, for welcoming us all back.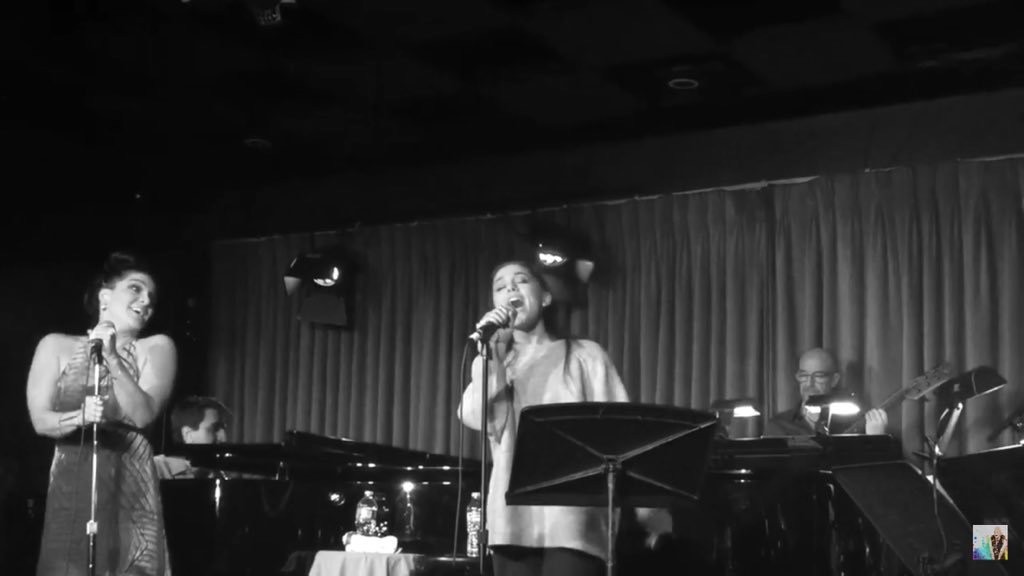 JRB: The Old Red Hills of Home (from Parade)
Melinda
Shoshana: And I Will Follow (from Songs of Jason Robert Brown)
Still Hurting (from The Last Five Years)
JRB & Shoshana: Break Me Blues
JRB: King of the World (from Songs for a New World)
Fifty Years Long
Shoshana: Another Life (from The Bridges of Madison County)
The Hardest Hill (world premiere)
All Things In Time (from Jason Robert Brown in Concert)
Ariana: The Lamest Place In The World (from 13)
Getting Out (from Wearing Someone Else's Clothes)
JRB: Moving Too Fast (from The Last Five Years)
Shoshana, Ariana & JRB: Brand New You (from 13)
JRB: Someone To Fall Back On (from Wearing Someone Else's Clothes)
Jason Robert Brown: piano, vocals
Shoshana Bean: vocals
Ariana Grande: vocals
Jamie Eblen: drums
Randy Landau: fretless bass
Andrew Synowiec: electric and acoustic guitar