Posted on April 25, 2013 at 9:06 pm
Read Erik Piepenburg's article in the New York Times here.
By ERIK PIEPENBURG
New York Times, published April 25, 2013
"The Last Five Years" is a modest musical with a huge following. Jason Robert Brown's two-person show follows the doomed marriage of Jamie, an arrogant Jewish novelist, and Cathy, an insecure gentile actress. The story of their troubled courtship is told chronologically — backward (hers) and forward (his). Their scenes intersect in the middle, when Jamie proposes to Cathy during a boat ride in Central Park. It's an intimate, melancholy show that has confused and alienated some audience members and enchanted others since its 2001 premiere at the Northlight Theater in Skokie, Ill.
The following year it opened Off Broadway, lasting two months at the Minetta Lane Theater, though its stars, Norbert Leo Butz and Sherie René Scott, have gone on to Broadway success.
There was a cast album, which has sold a not insignificant 85,000 copies to date and has helped the show's fan base spread. "L5Y," as the Twitter hashtag reads, has been produced more than 1,000 times in the United States and around the world.
Mr. Brown directs the new Off Broadway revival at Second Stage Theater, which stars Adam Kantor and Betsy Wolfe, and has been extended several times through May 18 despite mixed reviews. (In this video Mr. Kantor performs an excerpt from the number "If I Didn't Believe in You.") A film version, adapted and directed by Richard LaGravenese, is in production with Jeremy Jordan and Anna Kendrick.
What is it about the show that makes people travel the world to see it, or make marriage proposals using the show's lyrics? The New York Times recently asked readers to share their memories and memorabilia of the show. Following are condensed excerpts from interviews and online comments.
I made a mix CD for my girlfriend, now my wife, when we started dating. She went to Indiana University and I was at the University of Kentucky at Lexington, about a three-hour distance. I compiled a set of songs that I thought she would appreciate from recent musical theater she hadn't heard of. From "The Last Five Years" I included "Shiksa Goddess." She's not Jewish. She's of Indian descent and I'm of Western European lineage. The humor of the song was the point. Since then we've seen it about five times, including productions in London; Cincinnati; and Oxford, England. Doug Reside, 34, New York City
I was a senior in college and newly hooked on "The Last Five Years" when my parents split up in 2003. I tried, obsessively, to draw parallels between their crumbling relationship and the one L5Y centers on. It helped me sort through what had happened between them, even though the circumstances were very different. Ten years later I'm going through kind of a gritty time in my own marriage, and I'm at it again: What's going on here? Am I being a Jamie? A Cathy? What are the chances I'll find a therapist who knows what I'm talking about? Paige Campbell, 31, Abingdon, Va.
I wanted to propose to Alex, my girlfriend, with something public or fun, with a lot of our friends. I'm not a great singer, but I love to ham it up. Her favorite song from the show is "The Schmuel Song." We went to a karaoke bar in New York, where most of our friends live, and I changed the lyrics at the end of the song to make it a proposal. The original goes: "Say goodbye to wiping ashtrays at the bar/Say hello to Cathy Hiatt, big-time star." I changed it to: "Be more than just my girlfriend on this day/Say hello to Alex Cook my fiancée." That's when I pulled out the ring. When we got married our rings were inscribed, above, with the words "How lucky I am," from the last line of "The Schmuel Song." Bayard Templeton, 32, Philadelphia
I was the house manager for the production at the Minetta Lane. There was the night Sondheim came. He was sweet. I love that someone I revered so much was coming to see a piece with a score that I think stands up to anything that's out there, including Sondheim's own stuff. Other attendees I remember were Idina Menzel, Taye Diggs, Alice Ripley, Carol Burnett, Fran Drescher, Eric Stoltz, Betty Buckley and Liza Minnelli. Back then Liza always tried to see everything. Carolyn Saxon-Ruccio, "In my forties," Boston
It was especially fulfilling to do the production at East West Players in Los Angeles, which traditionally promotes Asian-American talent in nontraditional casting. We didn't play it with any kind of gimmicks. The one thing I do remember having to justify was believing Jamie was Jewish, since we had a Korean-American actor, Michael K. Lee, playing him. In our research we found there are quite a number of Korean Jews. Jennifer Paz, 39, Chicago
I was this female Catholic actress and he was this Jewish guy who was in the fine arts. Clearly Jason Robert Brown was telling us we should never date. So we never did. We ended up becoming really good friends. About a year ago he was my man of honor at my wedding. His best man toast was all Jason Robert Brown lyrics, some of which were from "The Last Five Years." Amanda Trombley, 26, Phoenix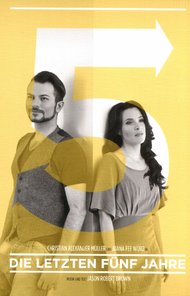 When I finally saw the show for the first time in 2011, it turned out to be one of the most intense theater experiences of my life. There were no over-the-top sets, no special effects, just a couple of chairs, two tables, a few props and two incredible actors: Christian Alexander Müller and Joana Fee Würz. The production was held in a tiny basement theater in Germany, the Chemnitzer Kabarett, with less than 150 seats. It felt wonderfully intimate, almost a bit voyeuristic, as if I was sitting in Cathy and Jamie's living room watching their relationship unfold right in front of me. Annegret Hintze, 26, Dresden, Germany
When I think about other stage works I love — namely "Betrayal" and "Merrily We Roll Along" — that turn the clock backward, I'm even more knocked out by the achievement of this show. Something about boiling the world down to only two people in "The Last Five Years" allows the show to take that crazy extra structural step that says, "You go in your direction, I'll go in the opposite direction," which tells us in the first minutes of the show how doomed this couple's relationship is. Jonathan Marc Sherman, New York (Mr. Sherman is the author of "Clive" and other plays)
I'm obsessed with the show. I've collected anything I could find, including a bootleg DVD of a performance they did in Skokie before the Off Broadway run. Jason Robert Brown was so honest with his portrayal of these two characters. It's got two characters who are both likeable and unlikeable. Anybody who has been in love has been in this position. You're right and wrong for each other, and neither one can say that. I know I've gone through that. Jimmy Straley, Springfield, Ohio